Click the link above to open a new window with the New York Mercantile Exchange web site to check the latest oil and gas market values.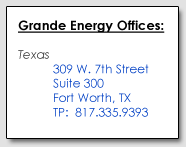 "At Grande, we know how to find it, but more importantly, we also know what it takes to produce it."




Grande Energy Company, housed in Ft. Worth, Texas, brings over thirty years of proficient experience in exploration and production, for both conventional and unconventional prospects and projects, specializing in resource plays across North America.
Regional Map

Currently, Grande has one of the leading independent leaseholds in both the Barnett and Fayetteville Shale plays. Additionally, we are also active in each of the regions highlighted below.